LaseMD makes IPL obsolete! LaseMD is a fractional non-ablative laser that effectively treats fine lines, wrinkles, skin texture, large pores, uneven skin color, melasma, dark spots from sun damage, active acne, and some forms of scars while tightening skin. Unlike other lasers, LaseMD is safe for all skin types and colors and is safe to use on tanned skin. LaseMD is only available at our Scottsdale location.
How does LaseMD work?
LaseMD uses fractional non-ablative laser energy to create micro-channel injuries in the skin. The body's natural healing response is to produce new collagen and elastin. This helps to improve the skin's overall quality and health at a cellular level. The LaseMD is dramatically different from traditional resurfacing lasers. It rebuilds healthy, glowing through gentle, non-ablative fractionated treatments.
The LaseMD system can be used in varying intensities to treat a variety of skin concerns and imperfections, including pigmented lesions, some forms of acne scarring, uneven texture, and other visible signs of age.
LaseMD Benefits:
Minimal downtime
Improves the appearance of course, rough, or uneven skin texture
Smooths fine lines and wrinkles
Removes moderate to severe sun damage
Diminishes pigmented lesions
Reduces active acne
Treats melasma in any skin type
What areas can be treated?
LaseMD can be safely used on any area of the body where you have fine lines, wrinkles, pigmentation, active acne, and/or sun damage. The most common areas of treatment are the face, followed by the neck, décolletage, arms, hands, and shoulders. LaseMD truly shines in three areas:
Pigment! Pigment! Pigment! Whether it's spots from sun damage, melasma, or even bruising, LaseMD is the new gold standard.
Restoring hand volume. LaseMD results are exponentially better than eMatrix and fractional laser.
Calming active acne and superficial acne scars. An excellent treatment for those who have or do suffer from chronic acne.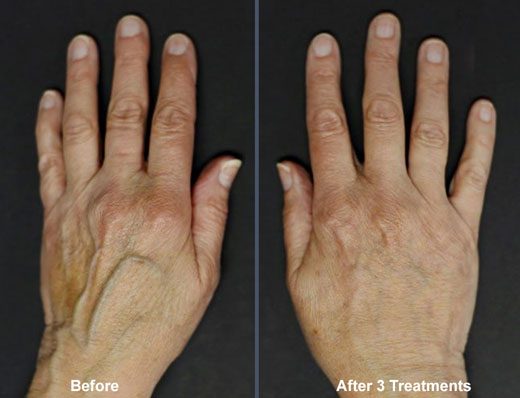 LaseMD Pricing
| Treatment Area | Single Treatment Cost | Package of 3 Treatment Cost |
| --- | --- | --- |
| Full Face | $450 | $1,150 |
| Face, Neck, & Décolletage | $850 | $2,300 |
| Full Arms | $500 | $1,300 |
| Hands | $200 | $550 |
What can I to expect during a LaseMD treatment?
If your face is being treated, topical numbing cream to the treatment area for about 30 minutes to minimize discomfort. Other treatment areas are not numbed. You will feel tiny warm zaps from the treatment head. Some areas will experience these sensations more than others. During the procedure your practitioner may adjust settings for specific treatment conditions in specific treatment areas. Higher energy settings for more pronounced results may be less comfortable.
What can I expect after a LaseMD treatment?
Your LaseMD treatment is tailored to the severity of your skin concerns. This means the length of downtime can vary depending on the intensity of your treatment, the area(s) treated, and the condition(s) being treated.
Most experience some mild redness in the treatment area for the first few hours, and the treated area may feel like it was sunburned. After treatment it is important to avoid heat, saunas, hot tubs and sweaty activity (including exercise) of any kind for 48 hours. The few days following treatment the treated area may feel like fine sandpaper and have dry flaking skin. It is important to use a good moisturizer both for your comfort and to facilitate healing. It is important to refrain from picking, rubbing, scrubbing, or irritating the skin while it is healing as this may cause scarring. Retinols and scrubs can generally be resumed 5 days after treatment.
When should I see results?
You should be able to see visible improvement in your skin texture and tone following your first treatment. With each additional treatment, you'll see more improvement including the overall quality of your skin improved improving. **Note that individual results may vary from patient to patient. **
Not sure if LaseMD is right for you? Book a complimentary consultation.